Biggest Storylines for Memphis Fans to Watch Out For This Season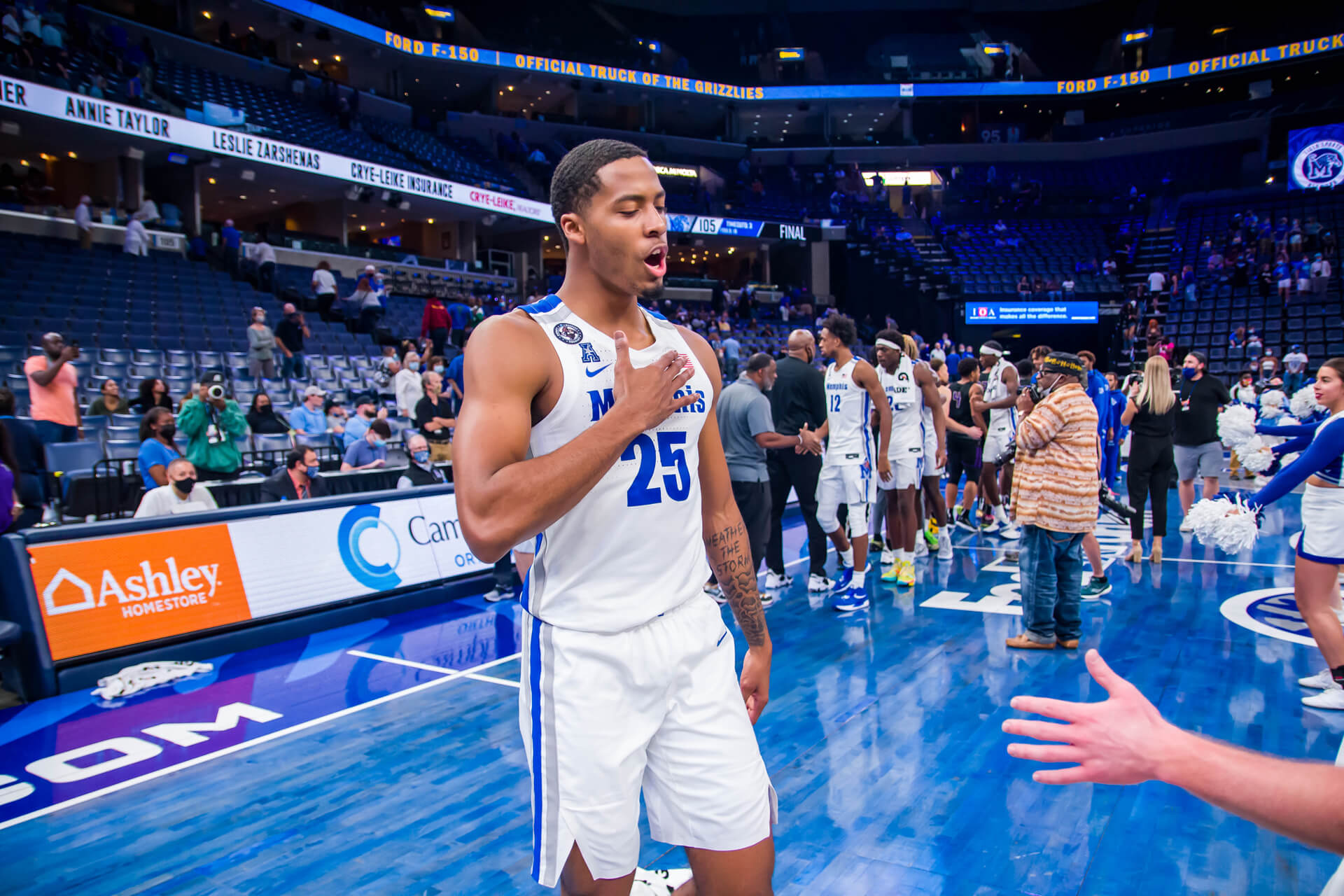 As we head into a new season, there are always plenty of storylines to watch out for. The off-season always consists of a lot of change, but this is especially true this year with the advent of NIL fundamentally changing how programs approach the summer months.
The Memphis Tigers fit this mold of change with their incoming eight-man transfer portal class and a roster that sees just two players from last year's AAC Championship-winning team return. Going into the 2023-24 campaign, what are the storylines to look out for with Memphis basketball?
DeAndre Williams' Waiver Situation
Despite it being November, the biggest storyline of the off-season remains in limbo. Memphis star DeAndre Williams applied for a waiver to return for another season with the Tigers, hoping to regain an additional year of eligibility. While the NCAA denied this initial waiver, the program submitted another with new information and paperwork.
The result of this decision by the NCAA, which will come soon according to head coach Penny Hardaway, could significantly change the season outlook for Memphis. Williams averaged 17.7 points, 8.2 rebounds, and 2.9 assists per game last season.
The Non-Conference Schedule
Memphis has one of the nation's most rigid non-conference schedules. It includes games against opponents like Texas A&M, Virginia, Michigan, Ole Miss, and more.
From the Battle 4 Atlantis to road games against SEC opponents, Memphis' ability to navigate this portion of their schedule will help determine their eventual seeding in March.
Replacing Kendric Davis
One of the biggest tasks of the off-season for Penny Hardaway was replacing the production of former point guard Kendric Davis. The SMU transfer guard averaged 21.9 points and 5.4 assists per game in his lone season with the Tigers, helping lead his team to an AAC Championship win over Houston.
Hardaway used the transfer portal to replace his production. Rather than do so with one player, however, they "re-created him in the aggregate" with three talented and experienced guards (shoutout to Moneyball).
Alabama transfer Jahvon Quinerly, who voters recently named to the AAC Preseason First-Team, was the biggest coup of the group. Quinerly will run the offense for the Tigers and possesses the playmaking ability to put up numbers in Hardaway's offense, especially considering he is now healthy. Florida State transfer Caleb Mills likely rounds out the starting backcourt for Memphis. He's an experienced guard with a history of double-digit scoring and should complement Quinerly well.
Finally, UCF transfer Jayhlon Young will likely emerge as the backup point guard for Memphis. In my opinion, Young is an underrated pick-up and should function as a solid, all-around player in a reserve role.
Memphis' Wing Rotation
One of the best qualities of this Memphis team is its wing depth. However, the biggest question about this group is how the rotation shakes out.
If DeAndre Williams isn't available, the top two of the group will likely slot into the starting lineup. St. John's transfer David Jones and Wichita State transfer Jaykwon Walton are the best of the bunch. Jones will cover the starting small forward position for Memphis. He's a talented player with a versatile offensive game who can contribute on the defensive end as well. Walton will likely start at the four spot. He's Memphis' best perimeter shooter and is a good defender as well, making him an intriguing '3&D' option on the wing.
Behind them is where it gets interesting. Penny Hardaway's two sons – graduate student Jayden Hardaway and freshman Ashton Hardaway – should see roles off the bench this season. Both have intriguing perimeter skill sets for their size.
Behind them is DII transfer Jonathan Pierre and a pair of freshmen, Carl Cherenfant and JJ Taylor. There were high hopes for Pierre, considering his skillset as a jumbo creator and perimeter shooter. However, there's been little buzz about him this off-season. Cherenfant and Taylor might not crack the rotation early on in the season due to their youth, but there's talent there. Cherenfant is a great defensive player who's still raw on the offensive end. Meanwhile, Taylor is an athletic perimeter shot-creator who could use some refining. 
Newfound Rivalry with FAU?
Ever since the Tigers lost to the Owls in the opening round of the 2023 NCAA Tournament, there's been lots of heated conversation between the two fanbases. With both programs now in the same conference, FAU and Memphis will have the chance to do battle to see who is the best team in the AAC.
Memphis plays FAU two times this season. They match up one time in late February at home and two weeks later on the road. The #10 ranked Owls return all five starters from last season's team, which made it to the Final Four. They also did not lose a player to the transfer portal. They were one of the few programs nationwide to accomplish that feat. 
FAU's roster construction is a polar opposite compared to that of Memphis, which rebuilt its roster primarily through the transfer portal. It should be interesting to see which strategy wins out as both teams vie for the AAC crown and look to establish a newfound rivalry.