DeAndre Williams Eligibility Waiver Denied By NCAA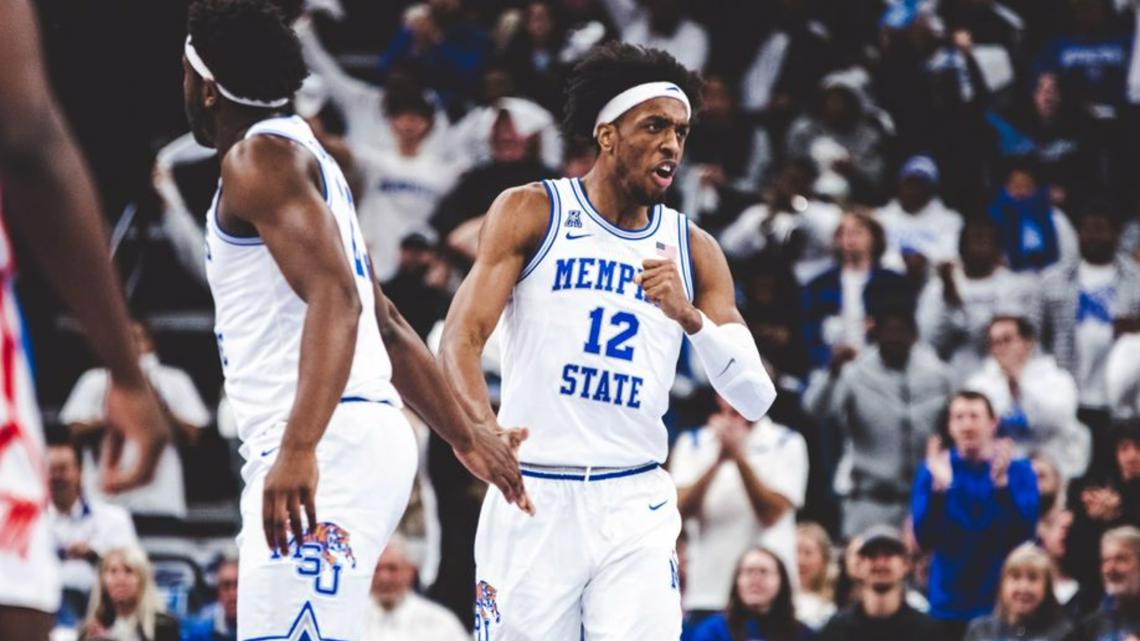 After a five-month wait, the NCAA officially denied the eligibility waiver of Memphis forward DeAndre Williams earlier today. Williams' career with Memphis is over after three decorated seasons with the program.
Memphis Athletics provided a statement on the NCAA's announcement this afternoon.
"We are extremely disappointed a waiver for an additional year of eligibility for DeAndre Williams was denied, which came following a request for reconsideration of the initial denial and then an appeal. We felt the evidence about academic misadvisement prior to his initial collegiate enrollment that was uncovered and provided to the NCAA was sufficient to grant this waiver, and we also strongly believed the depth of additional information shared with the NCAA on an ongoing basis would be on DeAndre's side," the school's athletic department said. "Unfortunately, after multiple months of back-and-forth, the NCAA arrived at a different conclusion. We appreciate DeAndre's contributions to our men's basketball program over the past two-and-a-half years, and he will always be a Memphis Tiger. Nevertheless, we are very much looking forward to an exciting season on the court for our men's basketball team." 
How We Got Here
DeAndre Williams committed to the University of Evansville as a three-star prospect out of high school. However, he was declared ineligible for his freshman season in 2018-19. 
This ruling came after he enrolled at the Sports Association of Texas for Christian Homeschoolers for his senior season, looking to qualify for a D1 scholarship. The legal team of Williams claimed in the appeal that he received poor advisement that led him to attend a school that wasn't NCAA accredited.
"Learning at home is not necessarily the same as being home-schooled," the NCAA Guide for the College-Bound Student-Athlete states. "Because of recent growth in online and virtual education, a student may be able to learn at home through an online school with online teachers, which would not be considered a parent-directed home school."
Williams, who left his original high school (Klein Forest HS) due to a poor academic environment, also played a postgraduate year at Nation Wide Academy in Oklahoma City.
Eligibility Clock Starts
The NCAA declared Williams an academic non-qualifier for the 2018-19 season. He, however, was still allowed to retain his scholarship and practice with his teammates after Evansville submitted a waiver claim.
Williams played his first collegiate season the following year, but the season was cut short due to the COVID-19 pandemic. He would enter the transfer portal and commit to Memphis over other high-major suitors. Due to the effects of the pandemic, the NCAA would grant all athletes a 'blanket waiver' for the 2020-21 season. This waiver meant that the year would not count against the eligibility clock of any athlete, including Williams.
Williams would play for Memphis during that COVID season and the two seasons after. After thinking his college career was over, he learned that he could regain a season of eligibility and play for Memphis in 2023-24.
The Appeal Process
One day after his mother claimed he would not be eligible to return, DeAndre Williams stated to The Commercial Appeal that he would seek an additional year of eligibility.
Soon after, he applied for a waiver, hoping to regain another year. Working alongside his attorney, Don Jackson, Williams aimed to contest the 2018-19 season counting against him on his eligibility clock. Despite not playing that season, the NCAA counted it as a "year-in residence" since he was on scholarship and practiced with his Evansville team. After the NCAA denied the first appeal in September, Jackson submitted an additional appeal that included more paperwork.
Attorney Don Jackson is a familiar name for Memphis fans. He represented head coach Penny Hardaway in a 2022 NCAA infractions case. 
Memphis' Confidence
Throughout the appeal process, Memphis' staff remained confident in Williams' ability to get a waiver. And even with the wait for a decision for nearly five months, that confidence never wavered. 
"We want him back," Hardaway said following the Tigers' exhibition game on Thursday. "We want an opportunity to win a national championship."
Unfortunately, just three days before the season tips off, Hardaway and the program learned that they would be without the services of their All-AAC forward.
What this Means for Memphis
The NCAA denying the eligibility of DeAndre Williams is arguably the most significant news Memphis has received all off-season. The Tigers would have returned what likely would have been their leading scorer and rebounder for this season. Williams was also the heart and soul of the program. He meant so much to the program and the city of Memphis over the past three seasons, from his work in the community to his production on the court.
Now, however, Hardaway and Memphis will be forced to look elsewhere to fill those roles.
Memphis' Starting Lineup
The one good thing that comes from DeAndre Williams' eligibility being denied is that the Tigers don't have to ramp him up before the season begins in just three days. Williams hasn't practiced with the team during the appeal process. Memphis can now focus on the upcoming season with the players that have been with them all off-season through their foreign tour, summer practices, and pre-season exhibitions. 
With Williams out of the picture, the starting lineup for Memphis is likely as follows:
PG – Jahvon Quinerly (Fifth Year Senior)
SG – Caleb Mills (Fifth Year Senior)
SF – David Jones (Senior)
PF – Jaykwon Walton (Senior)
C – Jordan Brown (Redshirt Senior)
Despite losing the oldest player in college basketball, Memphis still retains one of the most veteran rosters in the sport.
Who Steps Up?
Penny Hardaway and Memphis are well prepared for the loss of DeAndre Williams. Over the off-season, Hardaway collected one of the most talented rosters in the program's history. The Tigers arguably have four All-AAC caliber players in Quinerly, Jones, Walton, and Brown. All four of these players have immense collegiate experience and production.
Losing Williams, who would have spent a lot of time on the ball for Memphis, means another player will have to take those on-ball reps. In my opinion, St. John's transfer David Jones is more than capable of taking on this new role.
David Jones' New Role
Jones spent his junior season on a St. John's team that finished the regular season with an 18-15 record. He was tasked with a heavy creation burden with the Red Storm, holding a 28.7% usage rate. As the most talented shot creator on that team, the coaches often asked him to create late in the shot clock. This role led to his lowly 44.4 eFG% and 47.4 TS%.
Now, on a Memphis team with plenty of talent around him, expect this number to go up. The Tigers have plenty of players who can create their shot in the paint and from the perimeter. Players like Quinerly, Mills, Walton, Brown, and even the Hardaway brothers should allow Jones to settle into a lesser role for Memphis.
Regardless of this talent, however, David Jones is likely the best pure shot creator on Memphis' roster. He should still command a relatively high usage rate with the Tigers, given his shooting ability, athletic playstyle, and ball-handling prowess. 
Expect a BIG season from Memphis F David Jones (@DeiviJones23). One of the most underrated players in college basketball.

The Memphis forward is athletic, has a good handle for his size, and showed good separation and creation last season. Finishes ATR and shoots better than his… pic.twitter.com/BxDUVGqDwj

— Hitmen Hoops Media (@HitmenHoops) August 14, 2023
Jones has reportedly been one of Memphis' most impressive players during practices, sources tell HitmenHoops. He showcased his talent during the team's two exhibition matchups. He averaged 17 points, eight rebounds, and five assists per game in 19.5 minutes.
The senior transfer was also impressive playing against Memphis. During the Tigers' summer tour, Jones played for the Dominican Republic Select team. He displayed his two-way talent against his current team, scoring 12 points.
Expect David Jones to step up to the plate and fill much of the void that Memphis lost with the departure of DeAndre Williams. His offensive talent and defensive capabilities should be on full display in a more fruitful role.
The Importance of Williams
If he were declared eligible, DeAndre Williams would have been a massive part of getting Memphis to where they wanted to go this season. Williams was one of the most versatile players in the sport. He also would have arguably been the best at his position.
When Temple transfer Nick Jourdain is not on the court, Penny Hardaway will likely ask players like Jaykwon Walton, David Jones, and freshman Ashton Hardaway to play some small ball four. The fit isn't perfect for these players at the power-forward position. However, it is still nice that Memphis has talented players with experience at this spot.
The Tigers, however, will miss the athleticism and shot-creating ability that Williams would have provided. He would have been the #1 option in Hardaway's offense. He also would have made up one of the nation's best frontcourts with Louisiana transfer Jordan Brown. Williams had intriguing playmaking ability that Memphis now lacks in the frontcourt. He spent some time running the pick and roll as the lead ball handler in actions with Malcolm Dandrige last season.
Williams was also an important contributor on the defensive end with his athleticism, awareness, and weakside rim protection. He averaged 1.5 steals and 0.9 blocks per game last season. He was a significant presence in the passing lanes and around the rim.
Memphis' Upside
Without his services, it's unlikely that Memphis has national championship upside. While they still have plenty of talent that could take them there (and this is not a result that I rule out), having DeAndre Williams would have improved their odds tremendously.
However, the Tigers are arguably the most talented team in the AAC. They should still compete with Florida Atlantic for the conference crown. Their ability to win the conference and position themselves for a deep run in March depends on the ability of players like David Jones and others to fill the hole that DeAndre Williams left behind.