Memphis at Missouri Preview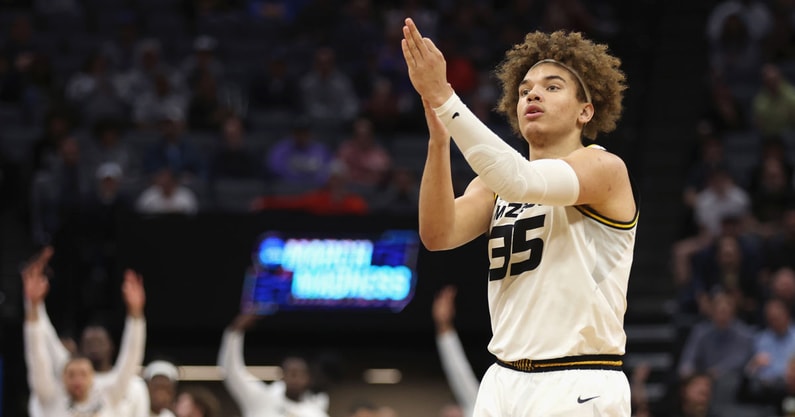 The Memphis Tigers will face their first big test of the 2023-24 season with a road matchup against Missouri. The game will occur on Friday, November 10th, at 8 p.m. CT on SEC Network.
What can Memphis expect from Missouri?
Missouri Roster Preview
The Missouri Tigers are an SEC program coached by Dennis Gates, who is in his second year with the team. The Tigers took down Arkansas Pine-Bluff 101-79 to open their season on Monday. Missouri is coming off a 25-win season in 2022-23 that culminated in an NCAA Tournament appearance.
The Tigers, however, lost their four leading scorers from last year's squad. The most notable losses are Kobe Brown, a physical and talented forward, and D'Moi Hodge, one of the SEC's top shooters last season.
With these losses, Dennis Gates attacked the transfer portal and recruiting trail, bringing in an intriguing blend of newcomers and returning talent that should make Missouri a formidable opponent.
Backcourt Rotation
Missouri will run its offense through graduate guard Nick Honor, who is one of the more secure ball handlers in the country. Honor deals with pressure well, possessing a 3.13 assist-to-turnover ratio last season, one of the top marks in the nation.
Graduate student Sean East II will pair with Honor in the backcourt, according to Gates. East is a solid defensive point guard with some playmaking ability. The 6'3 guard averaged 7.3 PPG and 2.5 APG in 35 games for the Tigers last season. He showed intriguing flashes as a passer and a shooter in his first season with Missouri but dealt with bouts of inconsistency. East led the Tigers in scoring with 21 points on 7-8 shooting in the first contest of the season.
Two other key names in the backcourt are a pair of graduate transfers, John Tonje (Colorado State) and Caleb Grill (Iowa State). Tonje is the less notable name of the two here but is the most interesting regarding what he can bring to Missouri. He's a big, physical guard who can shoot it from the perimeter and adds some athletic pop to the backcourt. Tonje shot 38.9% from three last season on 4.8 attempts per game. Caleb Grill is one of the nation's top shooters (36.8% from three on 5.8 attempts) who is nearly unstoppable when he gets going. If Grill is on, he's on, something he showcased leading Iowa State to a win against #1 North Carolina last season.
Bench Options
The backcourt depth is substantial for Missouri as well, led by Indiana junior transfer Tamar Bates and junior Kaleb Brown (brother of Kobe Brown). Bates is a smooth lefty shooter who connected on 37.4% of his three-point attempts for Indiana last season. If he can improve his consistency, he'll be a threat off the bench for Missouri, something he showcased by scoring 18 points in the opener. Brown, meanwhile, was reportedly one of Missouri's most improved players over the off-season. He could see a rise in minutes this season despite a lack of previous production. Brown could run the second unit for the Tigers with East and Honor in the starting lineup. 
Junior Curt Lewis adds further depth to the backcourt rotation. Lewis won JUCO Player of the Year with John A. Logan last season. The 6'5 guard connected on a ridiculous 48.3% of his three-point attempts last season. It will be interesting to see how he adjusts to the jump in competition from the JUCO to the SEC level.
Finally, freshman Anthony Robinson II is a talented playmaker and an intriguing long-term prospect. His shot-creation ability brings an aspect Missouri does not have in the backcourt, which could warrant early season minutes from Coach Gates.
Frontcourt Rotation
Noah Carter is the leader of the Tigers' frontcourt and should emerge as the team's #1 option on offense this season. The 6'6 forward plays bigger than his size and has a versatile offensive game. The former Northern Iowa standout averaged 9.6 points and 4.0 rebounds per game for Missouri last season. 
Starting with Carter in the frontcourt is likely Oral Roberts transfer Connor Vanover. The 7'5 big man won Summit League Defensive Player of the Year last season and even made 46 three-pointers. He, however, will miss the first three games of the season due to his participation in the Portsmouth Invitational Tournament back in April.
Bench Options
One of the first options off the bench for Dennis Gates may be sophomore Aidan Shaw. He started two games for the Tigers in his freshman campaign. Shaw was a four-star recruit in the class of 2022 and showed intriguing flashes for Missouri last season. Many around the program expect him to take the "freshman to sophomore leap" and contribute in a big way for the Tigers. He showcased his skillset in the season opener for the Tigers, scoring 7 points, collecting nine rebounds, and blocking five shots in 23 minutes.
Freshman forward Trent Pierce could play a significant role for Missouri as well. The 6'10 big man played for AZ Compass Prep and helped lead the national powerhouse to the GEICO High School National Championship game in his senior season. Pierce impacts the game in multiple ways and is an excellent shooter for his size. He is a four-star recruit who has expanded his game over the years. Pierce's athleticism and ability to put the ball on the floor make him a matchup problem in the frontcourt.
Jesus Carralero is an intriguing graduate transfer from Campbell. The 6'7 big man is an impressive passer and plays as a point forward. It'll be interesting to see how many minutes he can earn this season. Carralero started in place of the absent Connor Vanover but played just 10 minutes. Freshman Jordan Butler is a nice long-term piece for Missouri as well. He's a 7'0 center and former four-star recruit who competes defensively and is versatile for his size on the offensive end.
Prediction
Memphis is facing an SEC opponent on the road without their head coach, with Penny Hardaway in the middle of a three-game suspension. Collectively, this signals a matchup in which Memphis may struggle.
Missouri's system is designed around their three-point shooting, and they certainly have the pieces to do so. Caleb Grill, Curt Lewis, John Tonje, Anthony Robinson II, and Tamar Bates are all good three-point shooters. Trent Pierce, Jordan Butler, and Kaleb Brown are also perimeter threats. Memphis must contend with their fast-paced style and stick to perimeter shooters.
Missouri has multiple players in their frontcourt who can stretch the floor and put the ball on the deck. Memphis' bigs will be pulled away from the basket, putting more pressure on the team's guards and wings to prevent rim pressure from players like Nick Honor, Sean East II, and John Tonje. While Jahvon Quinerly and Caleb Mills aren't the best defenders, wings Jaykwon Walton and David Jones and guard Jayhlon Young have all shown flashes of strong play on that end that will be crucial for Memphis to win this game.
Why Memphis Wins
However, despite this game being a poor matchup for the Tigers, I expect them to do just enough to win in a close, offensive-oriented shootout. Defending the rim pressure of Missouri's guards is a concern, but there isn't necessarily a player in that backcourt who consistently puts pressure on the basket throughout the game. While the freshman Robinson has the potential to do so, it is still unknown how much he will play when the rotation shortens.
While Missouri's frontcourt has talent and some versatility, Memphis doesn't possess a weak defender in its frontcourt rotation. There isn't a true rim protector on the roster, but Jordan Brown, Nick Jourdain, and Malcolm Dandridge are all capable defenders. Furthermore, Rick Stansbury has enough wing defenders on the roster – Jones, Walton, Ashton Hardaway, Jayden Hardaway, Carl Cherenfant – to throw at Missouri's shooters to slow them down.
Furthermore, there are some concerns with the defense of Missouri. Without Connor Vanover, the Tigers gave up 79 points to Arkansas Pine-Bluff. They also allowed 30-point performances from two of their guards. If the backcourt defense of Missouri struggles, expect Quinerly, Mills, Jones, and Young to take advantage. Finally, the health of Colorado State transfer John Tonje is a question mark. Tonje is still ramping up from a foot injury he dealt with over the off-season. He missed the first game of the season despite not showing up on the injury report, so it remains to be seen if he will play against Memphis. Missouri will miss his shooting, athleticism, physicality, and perimeter defense if he does not.
In the end, Memphis' roster has plenty of experience, and the road SEC environment won't phase them because of it. I'll take the Tigers of the AAC in a close one in Columbia.
Prediction: Memphis 76, Missouri 68