Memphis Beats South Florida in AAC Shootout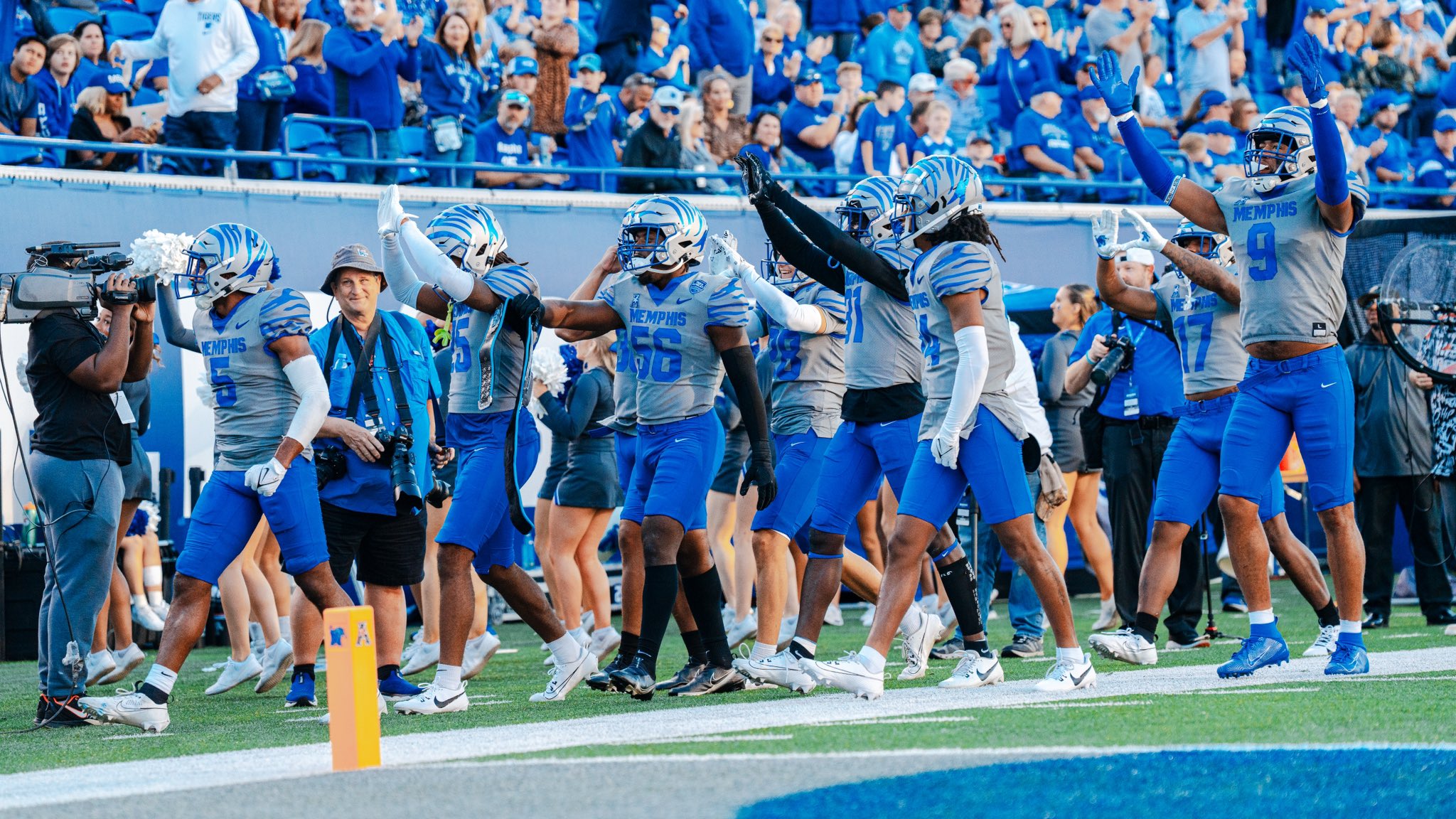 Memphis hosted South Florida for its homecoming in a game filled with offense.
The two teams combined to score over 100 points. At times a back and forth game, Memphis ultimately pulled away from the Bulls to secure a 59-50 win. The Tigers move to 7-2, and are still in the race for the AAC Championship in December.
First Half
Memphis stormed out of the gate in the first half, establishing a 14-point lead within the opening 4 minutes. The Tigers embarked on a 75-yard drive, and the defense recovered a pivotal fumble.
The rest of the first half evolved into a high-scoring showdown, with both offenses consistently finding the end zone. Seth Henigan delivered an outstanding performance, accumulating 348 yards and 5 total touchdowns. As he headed into the locker room, he was merely two touchdowns away from equaling the school record.
Conversely, South Florida's quarterback, Byrum Brown, dominated the Memphis defense. He completed 14 of 16 passes for 180 yards, securing his third touchdown of the day, narrowing the score to 35-28 and creating a one-score game at halftime.
Second Half
The second half began with the same intensity as the fast-paced first half. However, it was Brown and the Bulls who quickly notched two touchdowns, gaining their first lead of the day. Subsequently, having relied heavily on the passing game in the first half, Blake Watson rushed for a 34-yard touchdown to reclaim the lead for Memphis.
Following a big hit, Henigan left the field, and Tevin Carter stepped in as QB. Carter, remarkably, required just one play, connecting with Roc Taylor for an 85-yard TD, extending the lead to 10 points. Carter would play at QB for the rest of the game, with Henigan's status unknown, but remaining on the sidelines.
Jets Activated ✈️@tevincarter_2 x @Roc2shot #ALLIN | #GoTigersGo

📺 | https://t.co/ti4fBMpFxq pic.twitter.com/c7lgkO4O8g

— Memphis Football (@MemphisFB) November 4, 2023
Despite, struggling for much of the game, the defense finally settled in getting five straight stops. The fourth and fifth stop, holding South Florida on 4th down well into its own territory. After not being able to score their first attempt, Brandon Thomas would finally get into the endzone to extend the lead enough to walk out with a 9 point victory.
Notable Stats
Seth Henigan: 23-40, 391 Total Yards, 4 Passing and 1 rushing TD
Tevin Carter: 2/2, 92 Yards, 1 TD
Roc Taylor: 5 Receptions for 159 Yards, 2 TDs
Demeer Blankumsee: 6 Receptions for 142 Yards
Quote from Silverfield
"Obviously great to be able to celebrate our former players and alumni of this great University. You know I never lose sight of what an honor and privilege it is to be the head coach of this football team."