Memphis vs Alabama State Preview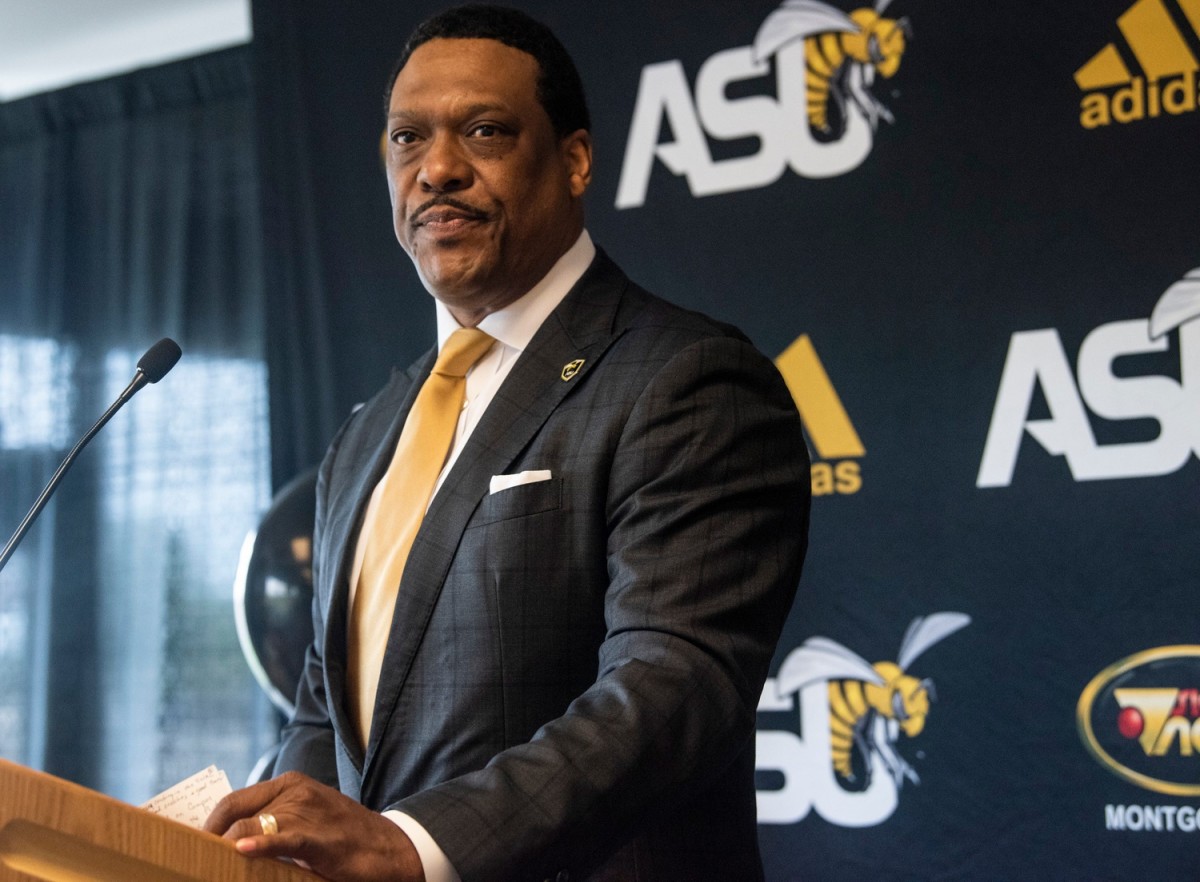 The Memphis Tigers return home after a week off to face Alabama State inside the FedEx Forum. The game will occur on Friday, November 17th, at 7 p.m. CT on ESPN+.
What can Memphis expect from Alabama State?
Alabama State Preview
The Alabama State Hornets are a program out of the SWAC coached by Tony Madlock, who heads into his second year at the helm of the program. Madlock was an assistant coach for Memphis under Penny Hardaway from 2018 to 2021. He also played for Memphis with Hardaway during his collegiate playing career from 1989 to 1992.
The Hornets are 1-2 on the young season with road losses to a pair of Power 5 programs (Ole Miss and Iowa) and a blowout victory over a D3 program (Oglethorpe).
Backcourt Rotation
Tony Madlock's son, TJ Madlock, is a junior guard who runs the show for Alabama State. The Memphis native has averaged 17 points, six rebounds, and 3.3 assists through three games. Madlock was impressive in a blowout loss to Iowa, scoring 23 points and adding six rebounds. He's also one of the top perimeter defenders in the SWAC, chipping in 2.3 steals per game on the season.
Junior CJ Hines is a 6'2 guard who's scored in double digits in all three games for Alabama State. Hines averages 12.7 points per game this season and is in his first year playing D1 basketball. He spent his first two seasons at Faulkner University, an NAIA school. Hines was named an NAIA First Team All-American in 2022-23. He's a solid playmaker and talented shooter, as he connected on 43.4 percent (76-175 3FGs) of his three-point attempts last season for Faulkner.
Rounding out the starting backcourt rotation is 6'5 junior guard Micah Octave. Also in his first season at the D1 level, Octave is a JUCO product who spent time at Garden City CC and Indian River State before coming to play for Tony Madlock. Octave is an athletic wing who can get in the passing lanes on defense. Offensively, he produces as a playmaker and outside shooter (5-10 3FGs).
Bench Options
Solid backcourt depth comes from sophomore Amarr Knox and junior Sean Smith. Knox is a Memphis native and former Tiger commit under Penny Hardaway. At 6'3, Knox is a solid athlete who uses his athleticism to finish creatively around the rim. The former four-star recruit averages 9.7 points per game. Knox is a solid overall point guard with the talent to score the ball in various ways and the ability to make plays for others. Sean Smith is another JUCO product on a rebuilt Alabama State team under Tony Madlock. Smith spent time at John A. Logan and San Diego Mesa CC before becoming a Hornet. He averages 8.7 points per game and is a crafty shot-creating guard with athleticism.
Alabama State returned their leading scorer from last season after Isaiah Range took his name out of the transfer portal. The senior averaged 14 points per game on 42.7 percent from three last season and should compete for SWAC Player of the Year. Range, however, has yet to play this season for the Hornets.
Frontcourt Rotation
Georgetown transfer D'Ante Bass leads Alabama State in scoring and rebounding, coming off an 18-point, 10-rebound double-double in his first game against Oglethorpe. The 6'6 sophomore wing is a good athlete with a strong build, allowing him to finish on the interior and defend bigger players. Bass is a former three-star recruit and a very versatile perimeter player. In his first game, he shot 8-13 from the floor and 1-5 from three.
Redshirt sophomore Darrell Reed has also made his way into the starting rotation for Alabama State. Reed only plays 17.3 minutes a night but contributes on the defensive end and on the glass. He averages three rebounds and 0.7 blocks per game.
Bench Options
Redshirt freshman JaSteven Walker is one of the top options off the bench for Alabama State. Walker is a versatile stretch big at 6'10, connecting on five of his 11 three-point attempts thus far. Walker averages 8.7 points and five rebounds per game while shooting 47.4% from the floor. He's also solid on the defensive end, collecting 345 blocks in his high school career.
Senior Eric Coleman is in his second year with the Hornets after spending the first half of his college career with South Plains College, a JUCO program. The 6'8 Coleman averages six points and 4.3 rebounds a night and takes most of his shot attempts from beyond the arc.
Sophomore Ubong Ukon is another depth forward for Alabama State. He's a 7'1 center who played his first collegiate season with Georgia Highlands, a JUCO school. Okon is a good rebounder, averaging five rebounds in 11 minutes per game.
Prediction
The early season results for Alabama State have been a mixed bag. While the Hornets lost to Ole Miss by only 10 points on the road, Iowa blew them out by 31 points. Ole Miss, a team Memphis plays in early December, has struggled in the young season. I wouldn't expect this matchup to be that close, especially with Alabama State likely not having the services of their senior leader, Isaiah Range.
Memphis should overwhelm the Hornets with their size on the interior. A team has yet to stop Jordan Brown this season, and I don't expect Alabama State to be the first one to do so. As Brown earns more minutes in Memphis' rotation, expect his production to improve. Jaykwon Walton should continue his impressive shooting, as nobody on the opposition has the height and mobility to stop him from scoring.
The Tigers will win comfortably if they can slow down TJ Madlock and D'Ante Bass on the perimeter. A strong performance from Jahvon Quinerly would also be an excellent sign for Memphis following his great game against Missouri. His consistency is important for the Tigers this season. 
In the end, expect Memphis to take care of business and welcome back Penny Hardaway as they prepare to leave for the Bahamas.
Prediction: Memphis 96, Alabama State 63