Quick Recap: Memphis Defeats Alabama State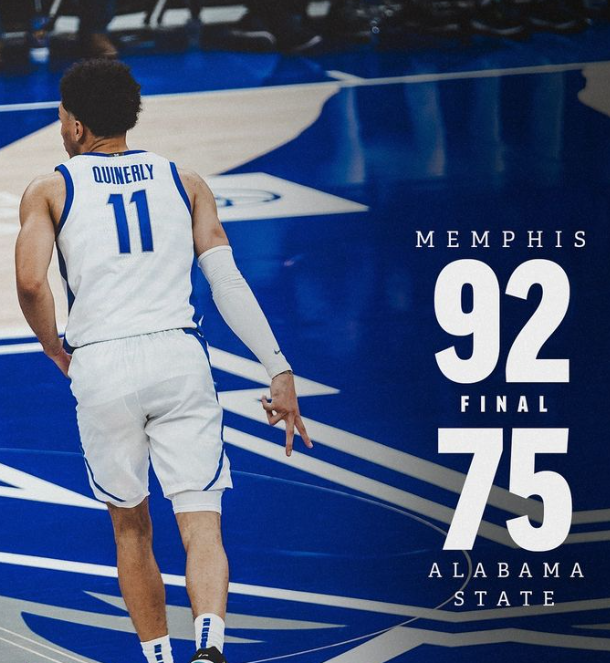 In a game that served as a homecoming for former player and assistant coach Tony Madlock, Memphis secured a convincing victory over his Alabama State squad with a final score of 92-75. As this game also marks the conclusion of Rick Stansbury's interim leadership with Penny Hardaway's three-game suspension coming to an end; Memphis moves to 3-0 on the year with the Battle 4 Atlantis next on their agenda.
Positive Highlights:
Shooting prowess remains a consistent strength; notably, David Jones delivered an exceptional performance from beyond the arc. In the first half, Jones sunk three three-pointers, including a buzzer-beater that extended the Tigers' lead just before halftime. Furthermore, Jones would carry this momentum into the second half, leading all scorers tonight with 22 points.
Even in his firth season, Jahvon Quinerly can also still do a little bit of everything. His stat line reflecting this finishing the night with 16 points, 8 rebounds, and 4 assists.
Only three games into the season, Memphis is quickly finding their rotation. The preferred starting lineup appears to be Quinerly, Mills, Walton, Jones, and Brown, with almost all the starters finishing the game in double-figure scoring. Bench players Jayden Hardaway and Malcolm Dandridge also contributed valuable minutes.
Areas for Improvement:
Despite the positive highlights, Memphis displayed a sloppy performance featuring turnovers and rebounding issues. The Tigers entered halftime with 10 turnovers, and this lack of ball control persisted into the second half. Many turnovers were unforced errors, highlighting the need for more attention to detail. The Tigers concluded the game with a total of 16 turnovers.
Another area in which Memphis struggled tonight was rebounding. The Tigers won the rebounding battle, but would allow for the Hornets to grab 24 offensive rebounds. This allowed for Alabama State to get 16 second chance points.
Thoughts from Coach Stansbury:
"There's no such thing as an ugly win, they don't exist. I've been on each side of them, but you can lose those kind of games real easy. Those nights we're you aren't quite there, you have to find ways to win."
Up Next:
Memphis will travel to the Bahamas next week to participate in the Battle 4 Atlantis. Memphis will play Michigan at 4 PM next Wednesday, and will play a total of three games in three days. Hardaway will be back on the bench after missing the first three games this season due to NCAA violations.