Is Penny Hardaway the Deion Sanders of College Basketball?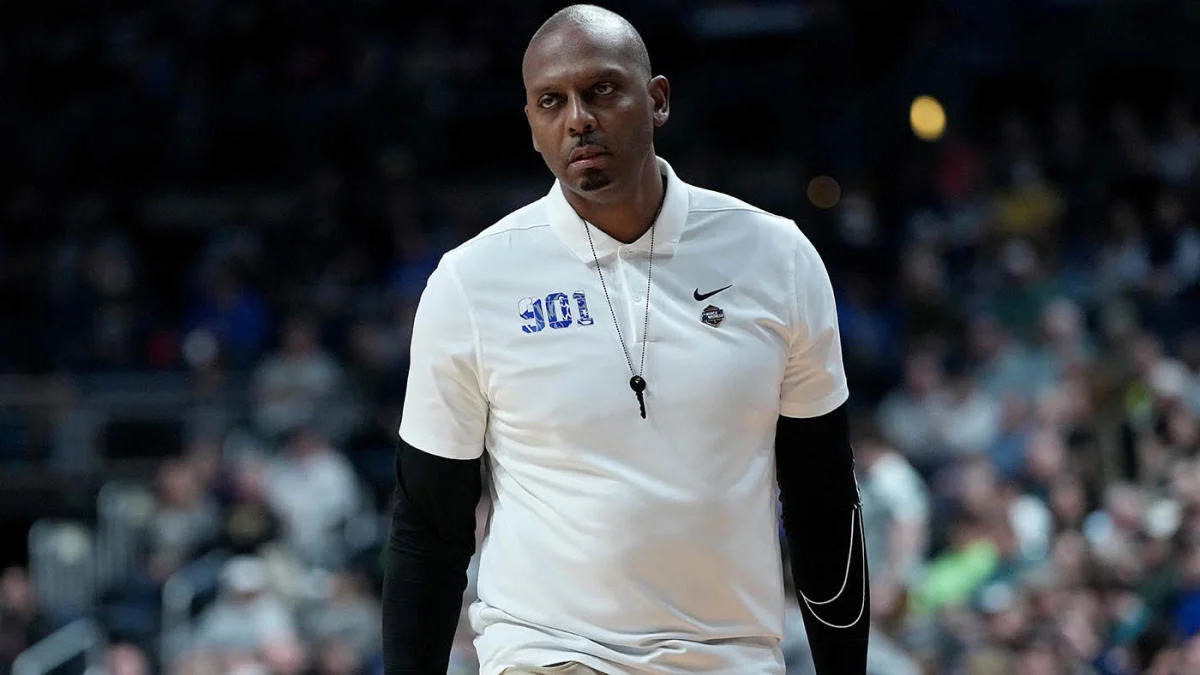 When Deion Sanders took over the reins at Colorado, a Pac-12 program that finished 1-11 in 2022, many national pundits doubted Coach Prime's capabilities to turn it around in Boulder. Thus far, the former NFL great has proven just about everyone wrong, starting off the 2023 campaign 3-0 with wins over TCU, Nebraska, and Colorado State.
This off-season, Sanders brought 86 new players to the roster through the transfer portal and a star-studded recruiting class. In an era that has popularized the transfer portal more than ever, Sanders surpassed everybody, adding 53 players through the portal, more than any other program.
In doing so, Sanders made it clear that he was looking to win immediately. He told the nation that he was coming.
"I'm bringing my own luggage with me, and it's Louis," he said in the first meeting with his Colorado players.
Deion Sanders telling the CU Buffs football team that he's bringing his own luggage, and that they better hit the portal. This is crazy 🤯 pic.twitter.com/004LUKiTr2

— College Transfer Portal (@CollegeFBPortal) December 4, 2022
He brought his sons, Shedeur (QB) and Shilo (SAF), with him from Jackson State. In his introductory press conference, he announced to the Colorado media that Shedeur was the team's starting quarterback before practice had officially begun.
This overhaul was shocking, and it was a move that only 'Coach Prime' could pull off with his charismatic personality and desperate desire to win.
But, a look toward the other side of the collegiate landscape, and you see striking similarities between Deion Sanders and a former NBA legend: Penny Hardaway.
Hardaway's Legacy
Like Deion Sanders, Penny Hardaway was a legend at the collegiate and professional level.
College Years
Hardaway played two years for Memphis in the early 1990s. He was an NCAA All-American each year he donned the Tiger Blue. He accumulated 1,319 points in just 66 games as a Tiger, averaging 20 PPG throughout his college career.
Hardaway won Conference POTY in both seasons and was a Naismith and Wooden Award finalist in his junior year. He would bypass his senior season to enter the 1993 NBA Draft, where he was selected third overall by the Golden State Warriors. One year later, Hardaway had his #25 jersey retired by the Memphis program.
NBA Career
After being drafted by the Warriors, Hardaway would be traded to the Orlando Magic, pairing him up with Shaquille O'Neal. In six seasons with the Magic, he emerged as the face of the franchise. With the Magic, Hardaway was a four-time All-Star, Rookie of the Year runner-up, two-time All-NBA First Team, and one-time All-NBA Third Team member.
During the summer of 1996, Hardaway won an Olympic Gold Medal with the U.S. With O'Neal leaving for the Lakers that same off-season, he became the lone star and delivered on high expectations. In the 1997 playoffs, Hardaway averaged a ridiculous 31 points per game.
A knee injury early in the 1997-98 campaign would start a downturn in Hardaway's NBA career. He would spend one more season with the Magic before being traded to the Phoenix Suns. Hardaway spent four seasons in Phoenix, the best of which was his first year, averaging roughly 17 PPG. Injuries would derail the remainder of his Suns tenure before a 2004 trade to the New York Knicks. Here, it was more of the same for Hardaway, who would continue to deal with poor health before retirement in 2007.
Roster Similarities
A quick look into the rosters of these programs reveals similarities in how each respective coach constructed them.
Transfer Portal Success
Both Memphis and Colorado's rosters are primarily built through the transfer portal.
Penny Hardaway and Memphis relentlessly attacked the portal this off-season, bringing in a talented eight-man class. The Tigers' head coach has quickly adapted to the age of Name, Image, and Likeness. And like with Sanders at Colorado, the Memphis basketball roster has seen a significant overhaul.
The Tigers only retained two players from last year's roster, with Malcolm Dandridge and Jayden Hardaway staying on board. A positive development in the ongoing case of DeAndre Williams would make this number three.
The offensive attack for both teams mostly features talent acquired through the portal. Colorado added their top two receivers – Xavier Weaver and Jimmy Horn Jr. – from USF. Travis Hunter, a two-way superstar, came over from Jackson State with his head coach. In the running game, freshman Dylan Edwards leads the way. However, the Buffaloes expect Houston transfer Alton McCaskill to return from injury soon. McCaskill was one of the premier running backs available in the portal, as he tallied 16 touchdowns in his freshman season.
If the NCAA does not grant DeAndre Williams his waiver, Memphis' starting lineup will likely consist of five transfers. Alabama transfer Jahvon Quinerly, St. John's transfer David Jones, and Louisiana transfer Jordan Brown should lead the way for the Tigers. Florida State transfer Caleb Mills would round out the backcourt, while Wichita State transfer Jaykwon Walton and Temple transfer Nick Jourdain would compete for the starting power forward spot. Finally, Nova Southeastern (D2) transfer Jonathan Pierre and UCF transfer Jayhlon Young are expected to fill essential reserve roles for Hardaway.
Brotherly Love
Like with Sanders at Colorado, Hardaway currently has two sons on the Memphis roster. Graduate student Jayden Hardaway and freshman Ashton Hardaway are expected to find roles off the bench for the Tigers.
In Boulder, Shedeur Sanders has emerged as one of the premier signal callers in college football, while Shilo Sanders is a solid starting safety. Last week, the older Shilo picked off a short pass and took it back for six. Meanwhile, for Memphis, Ashton Hardaway has shown intriguing flashes as a young freshman. Coaches expect the older Jayden Hardaway to be a versatile piece who can contribute on both ends.
A pair of brothers will be featured for both programs, looking to lead their teams in 2023.
Coaching Success
Deion Sanders and Penny Hardaway were transcendent players during their careers, and thus far, both head coaches have been able to replicate that success on the sidelines.
Sanders
Deion Sanders began his collegiate coaching career as the head coach of Jackson State. Playing in the SWAC, the JSU Tigers went 27-6 under Sanders, including wins in the conference championship in 2021 and 2022. At Jackson State, Sanders quickly became known for his recruiting prowess. Most notably, he was able to flip the commitment of five-star wide receiver and cornerback Travis Hunter, who became the first recruit of his kind to commit to an FCS program. It was a move that shocked the nation.
The success of Sanders at Jackson State was monumental for HBCU programs like JSU. Coach Prime brings cameras and attention everywhere he goes, and it was more of the same in Jackson, Mississippi. In Fall 2021, the Tigers set an FCS attendance record, averaging over 42,000 fans per home game.
Hardaway
Penny Hardaway was hired by the Memphis Tigers in March 2018, replacing Tubby Smith. In his first year as head coach, Hardaway led the Tigers to their best overall record in five seasons, as Memphis finished 22-14 with a NIT appearance.
In all five seasons with Hardaway at the helm, Memphis has finished with 20 or more wins. The Tigers saw their best two seasons under Hardaway in 2022 and 2023, where they made it to the NCAA tournament. In 2023, Hardaway had his best accomplishment as head coach. He won the AAC Championship Game over Houston in an upset victory.
Just like Sanders, Hardaway has been dominant on the recruiting trail. In Hardaway's first recruiting cycle (2019), Memphis had the top recruiting class in the country. This class included seven commits, headlined by #1 recruit James Wiseman, five-star Precious Achiuwa, and high four-star guard Boogie Ellis. In three of the four years since, the Tigers have landed a top 25 recruiting class. This includes an additional three five-star recruits and yet another #1 overall recruiting class.
Hardaway Needs More Attention
This off-season, Penny Hardaway and company brought in one of the best transfer portal classes in the country. According to 247, the Tigers' portal class is the #14 class in the nation and by far the best in the AAC.
By pairing this with a solid high-school recruiting class and the returns of Jayden Hardaway and Malcolm Dandridge (and the potential return of DeAndre Williams), Memphis is set for one of the better seasons in its program's history. The Tigers should enter the 2023 season as a top-25 team. And undoubtedly, they have the talent to make it deep in the NCAA tournament.
If Hardaway and his team deliver, he could – and should – enter discussions as one of the best player-turned-coaches in college sports. Then, it would be past time for pundits to place Penny Hardaway in national conversations alongside Deion Sanders. Their stories are eerily similar, after all.