Who Will Memphis' Most Impactful Transfer Be in 2023?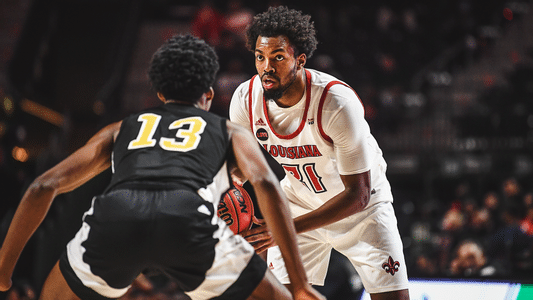 This off-season, Penny Hardaway looked to reconstruct a Memphis roster that lost most of its players to graduation or the transfer portal. The Tigers' headman would go to work, bringing in one of the nation's top transfer portal classes. It's a group made up of eight new faces as Memphis enters 2023 with an intriguing influx of talent.
Yes, none of these names will likely have the impact that SMU transfer Kendric Davis did for the Tigers last season. Davis, who was one of the top players in the portal in 2022, had an extremely successful stint with Memphis. The Tigers point guard won AAC Tournament MVP and averaged 21.9 PPG last season, leading his team to an NCAA tournament appearance. 
But that's not to discount this 2023 class, which brings in talent at every position on the court. So, among these transfers, who will be the most impactful for Memphis in 2023?
My answer? Jordan Brown.
Who is Jordan Brown?
Jordan Brown is a transfer from Louisiana who won the Lou Henson Award as the best mid-major player in the sport. The redshirt senior was a five-star recruit in the class of 2018 who started his college career at Nevada. He then transferred to Arizona after his freshman season.
He's spent his last two seasons at Louisiana, where he's had most of his success. Brown was named to the Sun-Belt All-Tournament team in 2022 and earned a spot on the conference's second team. He saw even more success in his redshirt junior season, where he won conference tournament MVP and was named to the Sun Belt First Team.
Brown had his best collegiate season for the Ragin' Cajuns in 2022-23, averaging 19.3 points and 8.6 rebounds per game. He shot an efficient 57.1% from the floor and was solid on the defensive end, averaging 1.2 blocks and 0.7 steals per game.
He would enter the transfer portal in June, and programs were quickly in pursuit of the talented Louisiana big man. Just 18 days after entering the portal, Brown committed to Penny Hardaway and the Memphis Tigers.
Jordan Brown's Role in 2023
Jordan Brown's role in Memphis' frontcourt could vary depending on the eligibility of DeAndre Williams. Williams will enter the season as the Tigers' #1 option if granted his waiver. If denied, something that isn't out of the picture with how the NCAA has treated two-time transfers this off-season, that role will be Brown's.
With Williams
With DeAndre Williams in the fold, Jordan Brown will likely come into the season as Memphis' #2 option. Due to the versatility of Williams, Brown will play off him a lot. The 26-year-old Williams tends to operate in the mid-post area, attracting significant attention. With the shooting of Jahvon Quinerly, Caleb Mills, and David Jones around them, Brown will have openings in the paint due to the gravity of Williams. Furthermore, Brown will get the chance to capitalize off second-chance opportunities on the glass, with more attention paid to the Tigers star in the paint.
Brown is a supremely talented player in his own right, however. The Louisiana transfer is efficient as a post-up big man, as he shot 64.6% at the rim in 2022-23. Brown can score effectively in one-on-one matchups with his deep bag of post moves. We saw this talent in the Dominican Republic, where he put up big-time performances for the Tigers.
Memphis C Jordan Brown (@JIBrown21) had a BIG TIME game for Memphis in their exhibition win against the Dominican Republic U22 team.

23 PTS
11 REB
9-11 FG
In only 20 min

Brown has numerous lethal post moves inside with great footwork. He can move well for his size and is all… pic.twitter.com/01UeVWhXWe

— Hitmen Hoops Media (@HitmenHoops) August 8, 2023
Memphis' center also pairs well with the playstyles of Quinerly and Mills, who like to operate downhill. Brown will get plenty of work in the PNR game, rolling hard to the rim and setting physical screens. He'll also play some two-man game with Williams, the PNR ball handler in actions with Malcolm Dandridge last season. And while Brown's range doesn't extend to the three-point line, he has a solid mid-range jumper and good touch near the rim. 
Without Williams
With DeAndre Williams out of the picture, Jordan Brown will take over as Memphis' #1 option. The Tigers offense will operate more out of the post, with Brown showing off his playmaking ability. Hardaway will task his center with dishing the rock to perimeter shooters and cutters. He'll have a higher usage as a post scorer as well. 
A two-man game with Brown and Jahvon Quinerly will also be highly featured. Quinerly's speed and playmaking ability should pair well with Brown's physicality and touch around the rim.
Brown should have plenty of space to operate as well. Due to the lack of outside shooting between him and Malcolm Dandridge, however, Memphis fans likely won't see these two on the court at the same time this season. Therefore, the frontcourt will be a heavy dose of Brown with Jaykwon Walton or Nick Jourdain. The Wichita State and Temple transfers are two of the better shooters on the roster. This makes for a few intriguing frontcourt pairings with Brown. 
Without Williams, a four-out, one-in offense will be highly featured for the Tigers in 2023, which should benefit Brown. Not only will he have more room to go to work in the paint, but he, too, will get to showcase his playmaking ability with four shooters around him.
Predicting Brown's Season
With or without DeAndre Williams in the picture, expect Jordan Brown to have a First Team AAC caliber season in 2023. It's a testament to his ability and Penny Hardaway's in the transfer portal. Hardaway worked quickly to nab the talented center once he was available.
Brown should rack up numbers all season long in the paint and on the glass. His scoring/rebounding combination is one of the best in the nation, and it'll be on full display for Memphis, no matter his role. It's a big reason why, despite a transfer portal class that consists of talents like Jahvon Quinerly, David Jones, and more, Jordan Brown will be the most impactful transfer for the Memphis Tigers in 2023.